Everybody quotes blade tip speed, this is not nearly as important as spindle speed. Blade tip speed is similar across all brands, and some brands are running tip speeds higher than required as the cleanest cut possible is only achievable within a certain speed range. Too fast and power and fuel are wasted, too slow and the grass is torn and damaged. What really matters is how many cuts or rotations the blade achieves per forward yard of travel, which is where spindle speed comes in.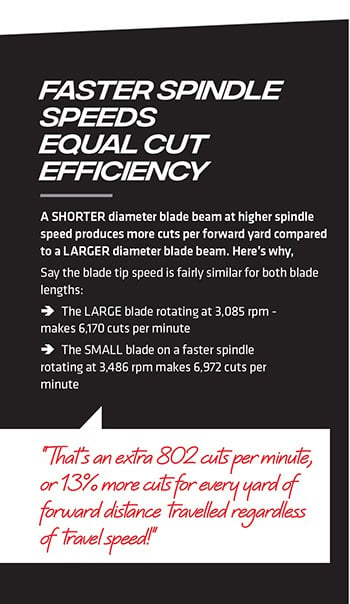 Trimax mowers feature shorter blade beams that enable more spindles to be fitted across the decks for any given cutting width. This keeps the deck compact for better weight distribution and maneuverability.
To maintain the perfect tip speed for cleanly cut grass, these shorter blade beams spin at a higher rate allowing the blade to take a smaller bite (clip) of grass each rotation, ultimately increasing the number of cuts per forward yard. This increased number of cuts is essential for producing a finer cut.
The other benefit is each spindle only has to handle a small volume of grass. This allows for the most effective use of the specialised Trimax airflow design in mixing the cut grass with air for an even spread which is discharged safely and effectively over the rear roller with no windows.
To gain an even greater number of cuts per yard, Trimax offers the patented Quattro Blade Kit on selected models increasing the blades per spindle from two to four, thereby doubling the number of cuts per rotation.
As an option, Quattro can be retrofitted for when an even finer clip of grass is needed. For all fine cut and turf applications, we recommend Quattro blade carriers and your choice of blade combinations including flat and uplift options.
Talk to your Trimax Sales Representative today about the best blade combination to suit your application. You can also book a demo by clicking here, or download our catalog by clicking here.
This article was published in December's The Cut – a turf industry mowing magazine published by Trimax. To read the full publication, please click here.