Pegasus 
⁄⁄
S5
Since its introduction in 2001, the Trimax Pegasus has established itself as the benchmark in wide-area mowing for parks, reserves, airports, racecourses, sports fields, turf farms, and more. With the Trimax Pegasus S5, we take another leap forward.
STRONGER. SMARTER. SAFER.
The Trimax Pegasus S5 is second to none.
For over 20 years, the Trimax Pegasus has been leading the way in wide-area mowing. Introduced in 2001 as the world's first multi-deck roller mower, the Pegasus is renowned for its robustness and versatility. Its fast spindle speeds and deep mowing decks deliver the highest quality cut and finish every time, and articulating decks provide a consistent cut over light to moderate contours.
The Pegasus S5 builds on the incredible strength, durability, versatility, and efficiency of the previous series to increase machine life and decrease downtime in full-time commercial applications.
Talk to us today about the capabilities of the Trimax Pegasus in your environment.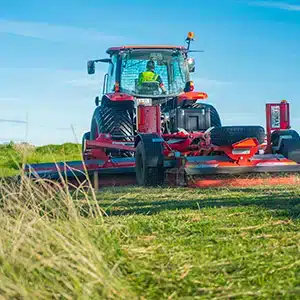 PEGASUS
⁄⁄
S5
Features.
The below features come as standard on all Pegasus S5 mowers:
LOW MAINTENANCE
With zero daily maintenance required, we've reduced grease points by 50% and annual grease consumption by 80%.
IMPACT PROTECTION
The outrigger arms and side channel leading edges have been redesigned for increased impact protection.
TITAN ROLLER BEARING SYSTEM
The Trimax Titan roller bearing is maintenance-free, requiring no regular greasing.
SUSPENSION
The new Pegasus S5 Flexiride Torque Suspension System is designed for increased strength and smoother travel at highway speeds.
ROBUST CHASSIS
The Pegasus S5 chassis has a brand-new design to increase strength while staying light on turf.
NEW LARGER WHEELS
Larger wheels help distribute the weight of the Pegasus S5 for 20% less ground pressure.
QUIKLIFT
Enables mower decks to be raised without disengaging the PTO to traverse driveways, paths and pavements.
PRECISE CUT HEIGHT ADJUSTMENT
Clearly displayed indicators in both metric and imperial units and a high-tensile 2mm pitch adjuster for precise cut height alterations.
STEADFAST SPINDLES
Trimax SteadFast sealed spindles require no greasing or regular maintenance.
FULL WIDTH ROLLERS
Full width front and rear rollers follow contours and provide excellent anti-scalp protection.
AUTO BELT TENSIONING
Improves drive to the spindles without requiring manual belt adjustments.
WHEELS RUN ON CUT GRASS
The rear deck is located between the transport wheels so grass is not flattened prior to mowing.
LAZERBLADEZ
Achieves a superior cut and finish and are more cost efficient than cylinder reels or solid blade beams.
BELT CAVITY DUAL WASH FLAPS
Provides easy access for removal of grass and drainage of water from belt cavities.
3 YEAR WARRANTY
We build mowers that last and they're supported with a 3 year industry leading warranty. 
IN-CAB UNLOCK SYSTEM
Unlock the mower side decks' transport lock from the convenience of the tractor seat using a release rope.
QUATTRO BLADE SYSTEM
This system adds 2 more blades to each spindle (2 flat & 2 upturned) for a finer cut on warm season grasses.
NEXABLADES
Scientifically designed for high-end turf giving a superior cut and spread when it matters most.
ROLLER SCRAPERS
Trimax Helical Scrapers operate with reduced tension but apply a constant pressure across the roller to assist with the cleaning of debris.
ANTI-BOUNCE SKIDS
Ideal for high speed mowing, Anti-Bounce Skids reduce the 'scalping' effect when mowing on uneven turf. Helps to ease the mower over humps between the front and rear rollers.
GALVANIZED
Hot-Dip Galvanizing provides added protection against corrosion. This is especially useful in coastal environments with high salt concentrations and applications with high fertilizer usage.
ON-CALL KIT
Each kit contains bearings, blades, and belts for a quick replacement in the field.
| | | | |
| --- | --- | --- | --- |
| Cutting Width | 16′ 2″ (4.94m) | No. of Blade Spindles | 9 |
| Overall Width | 16′ 9″ (5.1m) | Approx Weight | 4895lbs (2220kg) |
| Width (Transport Mode) | 8′ 3 ¾" (2.53m) | Minimum PTO Output * | 50 hp |
| Overall Length | 15′ 3″ (4.65m) | Transport Height | 8′ 7″ (2.62m) |
| Cut Height Range | ⅜" – 4 ⅓" (10-110mm) | | |
| | | | |
| --- | --- | --- | --- |
| Cutting Width | 19′ 11″ (6.09m) | No. of Blade Spindles | 11 |
| Overall Width | 20′ 6″ (6.25m) | Approx Weight | 5380lbs (2440kg) |
| Width (Transport Mode) | 8′ 3 ¾" (2.53m) | Minimum PTO Output * | 55 hp |
| Overall Length | 15′ 3″ (4.65m) | Transport Height | 10′ 6″ (3.2m) |
| Cut Height Range | ⅜"– 4 ⅓" (10-110mm) | | |
| | | | |
| --- | --- | --- | --- |
| Cutting Width | 23′ 9″ (7.23m) | No. of Blade Spindles | 13 |
| Overall Width | 24′ 3″ (7.39m) | Approx Weight | 5865lbs (2660kg) |
| Width (Transport Mode) | 8′ 3 ¾" (2.53m) | Minimum PTO Output * | 60 hp |
| Overall Length | 15′ 3″ (4.65m) | Transport Height | 12′ 6″ (3.8m) |
| Cut Height Range | ⅜" – 4 ⅓" (10-110mm) | | |
* Minimum PTO Output is a guide only. Requirement varies with the type of work and the terrain.
Download our
catalog.
Click here to download our digital PDF product catalog.
Book a free
Demonstration.
Interested in seeing a Trimax mower in action in your application? View the performance and benefits first-hand.
Buy genuine
Trimax Parts.
Visit our online Trimax Parts Store to purchase genuine parts, delivered direct to your door.